Contemporary Portraiture
So after yesterday's post of 500-ish-year-old portraits, today I'm sharing some of the contemporary work that we enjoyed. Have you been following the Sky Portrait Artist of the Year programme on TV? I have looked forward to it every week. There is something so fascinating about watching someone paint. When I used to catch the train to uni a woman used to get on at the same stop as me. She got on the train barefaced, but over the course of the journey would apply full make-up. I found that daily transformation strangely compelling too.
The absolute star of the Sky series has been
Christian Hook
and for once the right person won these things and he was commissioned to paint a portrait of Alan Cumming for the Scottish NPG. Paintings from the three finalists were on display at the NPG yesterday. His work faced the two runners up. They were all excellent of course, but his was just in another league. I was so pleased not to be disappointed by them when I saw them for real.
Portrait of Amir Khan, Christian Hook, details below.
He said in the TV shows that he liked to paint by taking risks, making things wrong and then pulling it back. That approach could be risky in so much that the swipes, gestural marks, drips and smears could look like a gimmick, but they don't. They're balanced by the deliberate marks which are brilliantly economical. It's loose, exciting, but perfect all at the same time.
Self portrait, Christian Hook, detail below.
If you have the opportunity to watch the final programme please do. The way he approached the sittings with Alan, he was clever, thoughtful and brave, and seems to be a really nice guy. The portrait that he gifted to Alan was just amazing. Genius. I think this is my new favourite painting.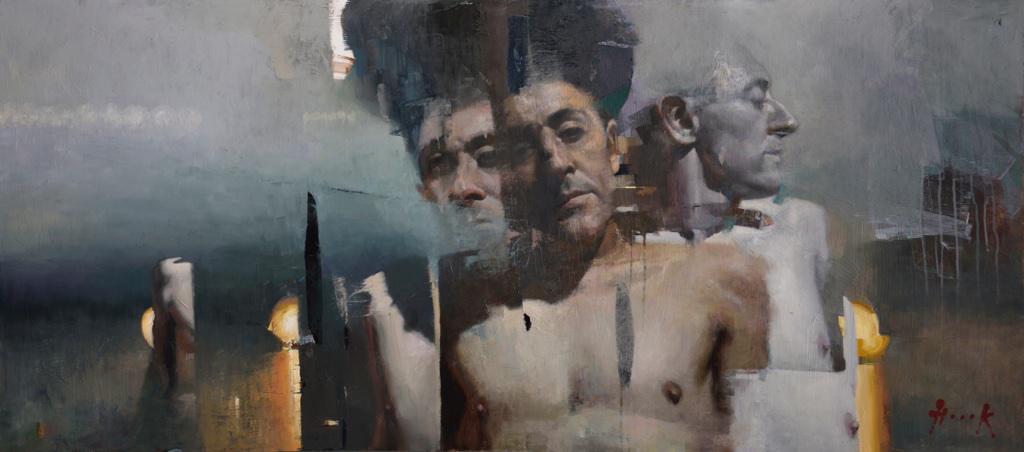 Thanks for visiting,
Laura
x